15-pc Kitchen Knife Set | Premier | Micarta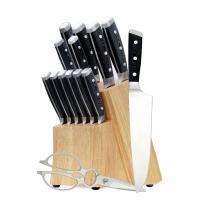 15-pc Kitchen Knife Set | Premier | Micarta
Product ID: KEW-067
This knife set is fully equipped with all essential knife ranges for maximum versatility in the kitchen. The wooden handle is made of Micarta, for a perfect radiance from the grain pattern. The handle is dense and compact, deterring any water damages.
The handle is capped with a stainless steel end for a balanced look. And as with all of our knives, the edges are sharpened with professional craftsmanship for an effortless cutting experience.
Features:
15-pc kitchen knife set
High carbon stainless steel for durability.
Comfort-contoured dual MICARTA handle.
Triple rivet for secured construction.
Dishwasher safe.
See more complete detail
Bread Knife: 8" blade
Chef's Knife: 8" blade
Carving Knife: 8" blade
Utility: 5" utility blade
Paring knife: 3'' blade
Order Information:
Minimum Order: Negotiable
OEM/ODM Product, Buyer's Label Offered