Cutlery Flatware Full Range Set | Ares | KEJ-612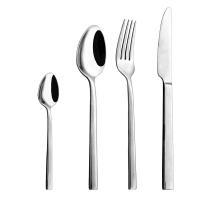 Cutlery Flatware Set | Ares | KEJ-612
Product ID: KEJ-612
This cutlery set has curved design for a harmonious look. Triangular cap-off near the end for solid fixture on table setting. The knives undergone specially hardening process to produce a sharp cutting experience. Available in full complete range for hotels and restaurants.
Mirrored polished and made from high-quality stainless steel.
Our cutlery set is dishwasher safe.
Available in 16-piece, 20-piece, or 24-piece set.
Features:
Suitable for both luxury and everyday use.
Trendy and modern design.
Made of high quality food-grade stainless steel.
Excellent rust resistance, corrosion resistance, and heat resistance.
Mirrored polished for superior, high-lustre shine.
Available in complete full range for hotels, restaurants and catering services.
Available in 16-piece, 20-piece, 24-piece or 30-piece set.
Available in mirror, satin, and other polishes.
Available in different packaging: white box, color window box, gift box, etc.
Dishwasher safe.
See more complete detail
| | |
| --- | --- |
| Content | Gauge (mm) |
| Dinner Knife | 8.0 |
| Dinner Fork | 7.0 |
| Dinner Spoon | 7.0 |
| Tea Spoon | 6.0 |
| Dessert Knife | 8.0 |
| Dessert Fork | 6.0 |
| Dessert Spoon | 6.0 |
| Fish Knife | 6.0 |
| Fish Fork | 3.0 |
| Cake Fork | 5.0 |
| Sugar Spoon | 6.0 |
| Moca Spoon | 4.0 |
| Soup Spoon | 7.0 |
| Steak Knife | 8.0 |
| Fruit Fork | 4.0 |
| Iced Tea Spoon | 4.0 |
| Pudding Spoon | 4.0 |
| Salad Fork | 8.0 |
| Salad Spoon | 8.0 |
| Gravy Ladle | 8.0 |
| Soup Ladle | 8.0 |
| Serving Spoon | 8.0 |
| Serving Fork | 8.0 |
| Cake Server | 8.0 |
Order Information:
Minimum Order: Negotiable
OEM/ODM Product, Buyer's Label Offered