15-pc Kitchen Knife Set | Classic | POM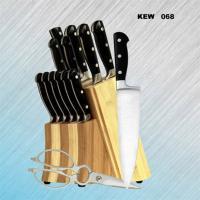 15-pc kitchen knife Set | Classic | POM
Product ID: KEW-068
This kitchen knife set comes with wooden block for storing all your essential knives after use. The plastic handles allows for easy maneuvering in your hands, while the material makes it resistant to daily wear and tear. In addition, the handles are secured with three-rivet construction for a firm attachment and a traditional look.
Like always, the blades are sharpened meticulously for a spectacular edge.
Features:
15-pc kitchen knife set
High carbon stainless steel for durability.
Comfort-contoured dual POM handle.
Full-tang construction for balance.
Triple rivet for secured handle.
Dishwasher safe.
See more complete detail
Bread Knife: 8" blade
Chef's Knife: 8" blade
Carving Knife: 8" blade
Utility Knife: 5" blade
Paring knife: 3'' blade
Order Information:
Minimum Order: Negotiable
OEM/ODM Product, Buyer's Label Offered