5-pcs Kitchen Knife Set | Ergonomic Synthetic Handle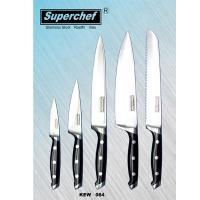 5-pcs Kitchen Knife Set | Ergonomic Synthetic Handle
Product ID: KEW-064
This popular 5-piece kitchen knife set is good for everyday use. Ergonomic handles wrap comfortable around your hand, providing long hour use. Full bolster protects the fingers and adds balance to the knives. The handles are secured with triple rivet for a classic look and capped with stainless steel at the end.
Blades are forged and specially treated for durability and corrosion resistance. Our skilled craftsmen sharpened and inspected every knife for long lasting sharpness and excellent cutting experience.
Features:
5-Piece Kitchen Knife Set
Suitable for everyday kitchen use. Cut, slice, chop, dice, garnish at ease.
Elegant design for luxury feel and look.
High performance carbon stainless steel for durability and rust resistance.
Fully forged for maximum reliability.
Ergonomically designed handle for maximum comfort and versatility.
Full tang design for increased strength and balance.
Full bolster and triple rivet construction for added balance
Taper edge technology for optimum sharpness & precise cutting.
Triple-rivet handle for secured construction
Comfort-contoured dual POM handle.
Knives are available in individual pieces, color window box, or Deluxe gift Box.
Dishwasher safe.
Order Information:
Minimum Order: Negotiable
OEM/ODM Product, Buyer's Label Offered