Wooden Chest Box | Mahogany Red with Grey Velvet Interior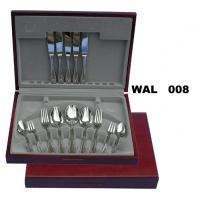 Wooden Chest Box | Mahogany Red with Grey Velvet Interior
Product ID: WAL-008
This wooden canteen is magnificently crafted with mahogany exterior, outlining the elegance of cutlery. Velvet interior construction prevents cutlery from damages and stores it away from water and dust. Also ideal for display and showcasing your cutlery masterpieces.
Features:
Wooden Canteen Chest Box
High quality wood finish
Mahogany red exterior color
Soft velvet grey interior
Can be designed for fitting 30, 60, 72, 84, 96, 112, 131 pieces, etc.
Order Information:
Minimum Order: Negotiable
OEM/ODM Product, Buyer's Label Offered