Skimmer | Kitchen Tools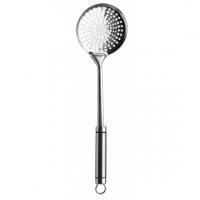 Skimmer | Kitchen Tools
Product ID: KEB-203
This skimmer is perfect for serving dry food from the pot. The holes in the bowl drains the excess liquid. Suitable for dumplings, ravioli, pasta, etc. The handle has a slot for hanging when not in use.
Features:
1-pc skimmer
Large bowl surface makes it suitable for draining excess liquid from food or for serving dry food.
Made of high quality food-grade stainless steel.
Excellent rust resistance, corrosion resistance, and heat resistance.
Mirrored polished for superior, high-lustre shine.
Available in different packaging.
Dishwasher safe.
Order Information:
Minimum Order: Negotiable
OEM/ODM Product, Buyer's Label Offered