Hammered Tsuchime Finish Damascus Knife with VG-10 Core & Pakka Handle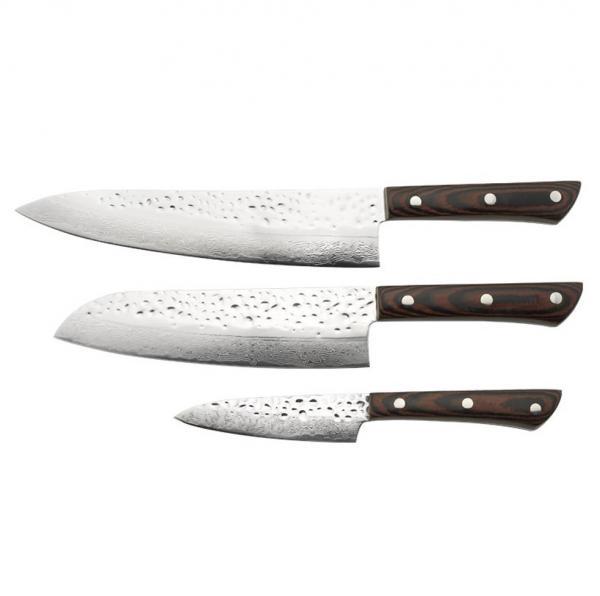 Hammered Tsuchime Finish Damascus Knife with VG-10 Core & Pakka Handle
This Hammer tsuchime finish Japanese knife set is beautifully handcrafted with breakthrough cutting technology. Special beveled knife edge for effortless cutting performance and durability. Each Damascus knife has unique pattern for a timeless look. Pakka wood handle for comfort grip.
Features:
Hand-finished double taper edge with 8 to 12 degrees angle on knife edge for extremely sharp cutting and reduce fatigue after long use.
Hammer Tsuchime surface finish creates air pocket when cutting food and minimizes food sticking onto blade.
67 layers of top quality high-carbon stainless steel.
62 HRC Rockwell Hardness for outstanding edge retention.
Laminated durable Pakka wood Handle.
Triple riveted for secured handle
Excellent corrosion resistance.
Damascus steel for strong durability and hardness that is handcrafted to last.
Beautiful aesthetics.
Special cryogenic ice hardening tempering technique to increase the blade's strength.
Cutting core is also available to be made in German 1.6114 stainless steel, Japanese 420J2, AUS-8 or AUS-10 stainless steel.
Suitable for everyday kitchen use or special event use.