Cutlery Flatware Set | Old English | KEJ-676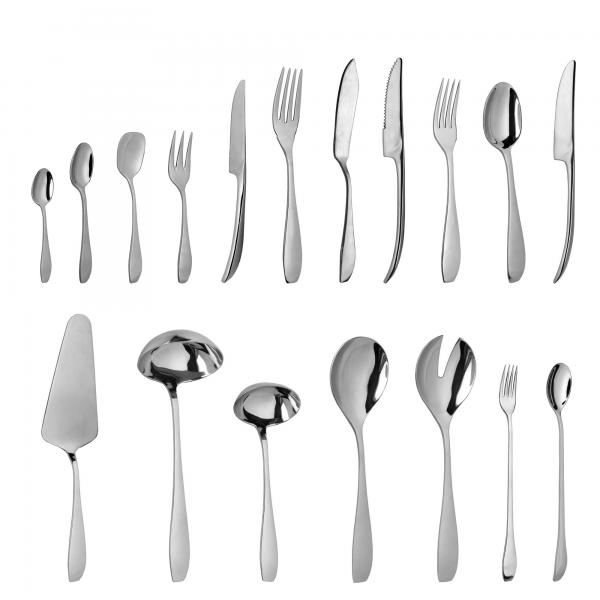 Cutlery Flatware Set | Old English | KEJ-676
Product ID: KEJ-676
This cutlery set is a popular style with aesthetic curving for an elegant dining setup. The knives undergone specially hardening process to produce a sharp cutting experience.
Mirrored polished and made from high-quality stainless steel.
Our cutlery set is dishwasher safe.
Available in 16-piece, 20-piece, or 24-piece set.
Specifications:
Suitable for both luxury and everyday use
Timeless, elegant design
Made of high quality food-grade stainless steel.
Excellent rust resistance, corrosion resistance, and heat resistance.
Mirrored polished for superior, high-lustre shine.
Available in 16-piece, 20-piece, 24-piece, 30-piece set or more.
Available in mirror, satin, and other polishes.
Available in different packaging: white box, color window box, gift box, etc.
Dishwasher safe.
Features:
Our designs are customizable, Please feel free to consult with us!
See more complete detail
| | |
| --- | --- |
| Content | Gauge (mm) |
| Dinner Knife | 7.0 |
| Dinner Fork | 4.0 |
| Dinner Spoon | 4.0 |
| Dessert knife | 7.0 |
| Dessert Fork | 3.0 |
| Dessert Spoon | 3.0 |
| Tea Spoon | 3.0 |
| Mocha Spoon | 3.0 |
| Steak Knife | 7.0 |
| Fish Knife | 4.0 |
| Fish Fork | 4.0 |
| Cake Fork | 3.0 |
| Pudding Spoon | 2.5 |
| Long Ice Spoon | 3.0 |
| Salad Spoon | 4.0 |
| Salad Fork | 4.0 |
| Cake Server | 3.0 |
| Gravy Ladle | 4.0 |